Technology Experts
Taking code where no code has gone before
HTML5

CSS3

PHP

REACT NATIVE

JavaScript
Webstick Bulletin Board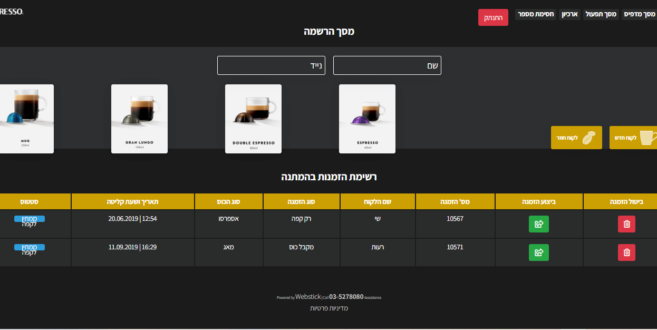 The Nespresso system that developed by Webstick
A world where everything is possible and any idea can be realized
Just Ask Our Clients

Webstick demonstrated a deep understanding of our processes and business needs, offering comprehensive solutions, project management, and impressive familiarity with external systems, while their development team uniquely bridged the gap between the web world and our customers' motivations.

My experience with the Webstick team thus far has been absolutely excellent. They are professional, responsive and always looking to meet their clients' needs at the highest level with creative and practical solutions. Although we approached Webstick for a specific start-up project need - it became very clear after meeting with their team, benefiting from their quick turnaround time on the first project and willingness to help with any bump in the road, that this was a web & digital service provider that we wanted to work with long term.

We took Webstick for the design and the development of our site, we were very impressed by their professionalism. They took care of everything, and make sure that everything will be perfect according to our requirements.

,חברות הפינטק מטאור ואמן פיתחו במשותף מוצר טכנולוגי חדש
שנדרש היה להקים לו אתר שיווקי
פנינו לוובסטיק כדי שסייעו לנו במשימה ומהרגע הראשון היה ברור שזו היתה בחירה מעולה
,החל בניהול פרויקט ללא פשרות, תכנית עבודה מדויקת
עמידה קשיחה בלוחות זמנים, שקיפות ושירותיות
!כשכך נראית הדרך, ברור גם שהתוצאה מעולה. שאפו

SEO & Conversion Director
The work with Webstick was excellent, the staff is very professional and kind, they understood our desires, advised and gave far beyond website development. There is no doubt that Webstick will take part in our next site, thank you very much!

Working with Webstick was very pleasant and professional. We had an immediate solutions and explanations for all the questions and problems. The company staff helped to create a high quality website with a smart operating system for a suitable way to communicate with future customers.
Content Strategy at Ripples
From full website redesigns to daily maintenance, our project manager at Webstick is extremely responsive and helped us achieve quick turnaround and professional results - even for last-minute requests.

Head of Design & User experience at BeyeOnics
It was a pleasure working with Webstick. The team's professional approach, versatile experience and attention for every detail produced a remarkable outcome.

VP Development at Phytech
Webstick has a really impressive approach to a currently siloed and broken model of interactive prototyping. I can think of a bunch of projects that I could have used this on, that might have saved me days of work!

Webstick did a great job of not only creating our website how we wanted it to be, but also gave us great insight and tips based on their experience!
Their proven experience and excellence is the reason why our company would recommend Webstick to anyone who is looking to create a customized website.
Grin

I would like to recommend Webstick for a successful project in the past year (2020). (I was a project manager in Makor Rishon.)
The service we received was individual, fast and professional.
We really enjoyed working with them, the meetings were professional and so the detailed explanations of the software operation that we had to learn as a client. They took care of every little details from project planning to it's implementation.